Why so much secrecy around Chávez's health? Venezuela's not alone.
Venezuelan officials characterized Chávez's health as 'severe' for the first time last night. From dictators to leaders of Western democracies, secrecy around health concerns is often the norm.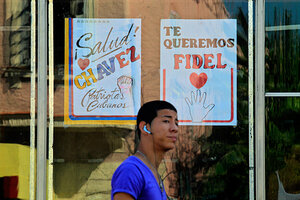 Enrique De La Osa/Reuters
The government of Hugo Chávez has, for the first time, characterized the Venezuelan leader's health condition as "severe" following his Dec. 11 surgery in Cuba for a recurrence of cancer.
But the announcement Thursday night is unlikely to put an end to the rumor mill that has swirled in the past three weeks in the Andean country.
While everyone is worked up over President Chávez's health status, his administration is not necessarily an anomaly in keeping relatively mum. From dictators who are unable to envision their countries without them at the helm, to leaders of western democracies who attempt to pursue political projects despite medical setbacks, secrecy is often the norm.
"It is a long-standing pattern," says Jerrold Post, who co-wrote "When Illness Strikes the Leader: The Dilemma of the Captive King" and is director of the political psychology program at George Washington University.
'Tell us the truth'
Norm or not, the lack of news has kept people talking. Type in #DiganLaVerdadSobreChavez, or #TellUsTheTruthAboutChavez, and the trending Twitter topic reveals the state of speculation that has become the state of Venezuela since Chávez traveled to Havana for treatment last month.
No one has heard from him since.
---