Malvinas curriculum helps Argentina revive Falklands claim
Residents of the Falklands vote today and tomorrow in a referendum that's expected to reaffirm the population's desire to remain an Overseas British Territory.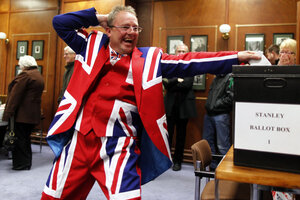 Marcos Brindicci/Reuters
In a sunny classroom in rural Argentina, a teacher stands in front of a group of primary school students in white coats.
Behind her two maps pasted on the chalkboard display Argentina and the wing-like shape of a group of 800 tiny islands Argentines contend are being illegally occupied by the United Kingdom.
"Would I need a passport to go to Tierra del Fuego?" the teacher asks.
"No," students say.
"Then why is a passport required to go to Malvinas?"
"Because it's dominated by the English."
This exchange during a geography lesson in a documentary that aired on public television late last year is part of Argentina's revamp of school curriculum in order to revive sympathy for the republic's longstanding claim to what it calls the Malvinas, otherwise known as the Falkland Islands, that lie 310 miles across the south Atlantic from Argentine Patagonia.
The campaign is part of a broader effort by the administration of President Cristina Fernández de Kirchner to assert sovereign rights to potentially lucrative natural resources in the Falklands territory and Antarctica.
A disputed history
How the islands came to belong to Great Britain, some 8,000 miles away, is a taught history that diverges greatly depending on perspective.
Mrs. Kirchner has framed Britain's takeover as "a blatant example of 19th-century colonialism" while Falklanders, some of whom trace back nine generations on the islands, say that they are proud of their British heritage.
---