Can you hear me now? Mexico proposes new telecom laws
The reform would open the Mexican telecommunications market to greater foreign investment.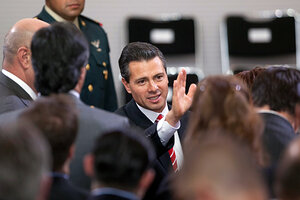 Alexandre Meneghini/AP
The Mexican government is taking aim at the system that enriched the country's billionaires with a proposed reform of its telecommunications industry.
Backed by all three major political parties and President Enrique Peña Nieto, the reform would open the telecommunications market to greater foreign investment, create two new all-access television channels, and subject companies to tougher competition rules – all with an eye on providing Mexican consumers with more choice and lower prices when it comes to phone and television services.
Carlos Slim's América Móvil dominates landlines and cellular phone service in Mexico through his companies Telmex and Telcel, which respectively claim 80 percent and 70 percent of those markets. Mr. Slim has ranked as the world's richest person on Forbes' list for four years running.
In television, Mexico's two free channels split local audiences, Emilio Azcárraga's Televisa with 70 percent of viewers and Ricardo Salinas' TV Azteca with the rest. Together they control roughly 90 percent of the television advertising market. They're competitors but partners, too: Televisa and TV Azteca each own half of cellular phone provider Iusacell.
---