Mexico: Border schools adjust to influx of English-speaking students
Thousands of children have arrived in Mexican schools from the US amid record deportations. One school in Northern Mexico is becoming a model for integrating this new student population.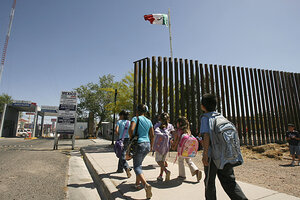 Tony Avelar/The Christian Science Monitor/File
Elementary students at Lamberto Hernández School in this northern Mexican city were long gone by the time teachers sat down recently to learn about the growing population of English-speaking students in their classrooms.
At the teacher training workshop, facilitator Laura Guadalupe Zatarain asked the educators in English to fill out a simple form written in German. The teachers looked at her, puzzled.
"This gives you an idea how these children feel when we start speaking too fast and they have trouble understanding," Ms. Zatarain says, switching to Spanish. "Especially about a subject like math, or history, or President Benito Juárez, someone they have never heard about."
State education officials point to Lamberto Hernández, a school named after a late educator from the region, as a model for working to create an environment that embraces students and parents arriving from the United States with little or no knowledge about Mexico's school system. Thousands of school children have arrived in Mexican schools from the US in the past several years amid a record number of deportations and a foundering US economy. [Read The Christian Science Monitor's story on US-educated kids adjusting to school in Mexico.]
---