Mexico fields candidate to lead IMF. Does he have a shot?
(Read article summary)
Agustin Carstens, the Mexican central bank governor, says that developing countries need a larger say in the policies of the International Monetary Fund.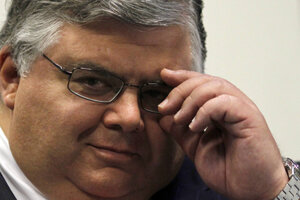 Carlos Jasso
With the top IMF position open following the recent scandal, developing nations in Latin America, Africa, and Asia are looking for a candidate who can finally break the European stranglehold on the position.
Mexico Central Bank Governor Agustin Carstens appears to have become a leading candidate for the job. While he's not likely to beat a unified European selection of French Finance Minister Christine Lagarde, he could make it a close race and put the US in a tough spot of choosing between Europe and Mexico.
One thing to remember: Mexican President Felipe Calderón has proven himself to be a skilled negotiator on international issues, whether it's on environmental issues or positioning Mexico for another turn at the UN Security Council. While Lagarde is the favorite, don't doubt that Calderón will play this one well. Even if Carstens doesn't win the IMF job, Mexico won't walk away empty handed from this.
I think Moises Naim is correct in his op-ed in Sunday's Washington Post about the problems with the current IMF selection:
---