Release of former Tijuana mayor compounds Mexico's judicial credibility problem
(Read article summary)
Tuesday's release of Jorge Hank Rhon after being held on gun charges is a blow to a government that can't seem to make charges against organized crime stick, writes guest blogger Steven Dudley.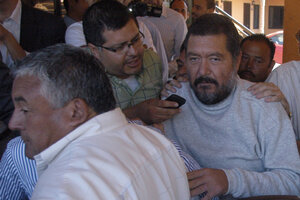 AP Photo
Jorge Hank Rhon was first freed in the early hours of Tuesday morning, after a judge threw out the gun charges against him on grounds of insufficient evidence. This was despite reports that dozens of unlicensed guns were found in his home, two of which were allegedly used to commit homicides.
The business magnate was then taken for questioning over his connections to various murder cases, including that of his son's girlfriend in 2009. Again, the judge ruled against holding him while the government investigates what may be three separate murder charges.
Mr. Hank Rhon, one of the country's richest men, has been connected to the Tijuana Cartel, the murder of a journalist, breaking customs laws by trafficking ivory, and numerous other shady operations. However, he has consistently eluded jail and remains one of the most powerful men in the state of Baja California. His name circulates as a possible candidate for governor of the state or a return as mayor of Tijuana.
---