Brazilian President Rousseff's first semester marred by battles with Congress, scandal
(Read article summary)
Although she has kept Brazil's economy buoyant in her first six months, the president has lost four ministers to corruption scandals and has been unable to keep her congressional allies in line.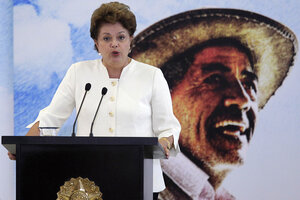 Ueslei Marcelino/Reuters
On July 13, Brazilian President Dilma Rousseff threw a cocktail party to celebrate the end of her government's first semester and the beginning of the National Legislature's mid-July break. According to LatinNews.com, 17 of 38 ministers made an appearance, as did the presidents of both chambers of Congress and the vice president. The event began at 7:30 p.m., but by 9 p.m. most invitees had already left. The lukewarm turnout and hasty departures reflect a palpable lack of enthusiasm for Ms. Rousseff's performance after six months in power.
To her credit, the president has kept the economy buoyant while Europe and the US tank, and she has added continuity to former President Luiz Inácio Lula da Silva's achievements by expanding and inventing new social programs, such as the new Program to Fight Extreme Misery (Programa de Combate à Miseria Extrema). But apart from these significant bright spots, the president's policy performance has been halting at best and weak at worst. Overall, the clearest trend has been to privilege the unity of her legislative coalition at the cost of policy priorities, ultimately making a success of neither.
The Coalitional Problem
Notwithstanding the largest majority coalition in Brazil's democratic history, the president has had extreme difficulty ensuring Congress's support. Supposed allies have disobeyed and blackmailed Rousseff, weakening or delaying governmental policy priorities, particularly those critical to Brazil's future sustainability and stability: Forestry Legislation (Código Forestal), the establishment of a Truth Commission, and the passage of a Freedom of Information Law, among others.
---