Venezuela unable to determine cause of Bolivar's death
(Read article summary)
The Latin American hero's body was exhumed by order of Venezuelan President Hugo Chavez last year to prove that Bolivar was murdered, but the study was inconclusive.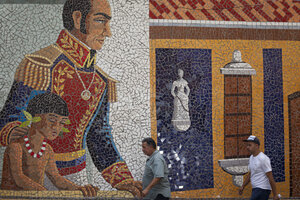 Carlos Garcia Rawlins/Reuters
A year ago this month, forensic specialists exhumed the body of Venezuelan independence hero Simón Bolívar in a fanfare ceremony broadcast live from a Caracas mausoleum. The late-night show featured narration from Interior Minister Tareck El Assami to the background of the country's national anthem.
The spectacle was thanks to President Hugo Chávez, whose own controversial Bolivarian revolution is inspired by and named for the 19th century liberator and who, contrary to the traditionally held view that tuberculosis killed the revolutionary, sought to prove that in fact Colombian oligarchs murdered Bolívar.
Now the results of the forensic analyses are out, and they are inconclusive. "We could not establish the death was by non-natural means or by intentional poisoning. None of those who say this could prove it," said Vice President Elías Jaua, in a ceremony aired across Venezuela.
Bolívar, who liberated South America from Spain, is not the only leader whose demise has received attention recently in Latin America. An autopsy on the body of former Chilean president Salvador Allende, who died in 1973 as tanks and aircraft bombed his presidential palace, has confirmed suicide. The news has put to rest significant questions on the death of the continent's first democratically-elected socialist leader who was ousted in a coup and replaced by the US-backed dictatorship of Augusto Pinochet.
---