Arrest of money launderer 'Dolly' in Colombia is minimal blow to Sinaloa drug cartel
(Read article summary)
The arrest of the Colombian woman, accused of laundering money for the Mexican drug cartel, will do little to hamper a group that operates in as many as 50 countries, including the US.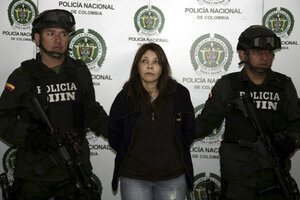 Police handout/Reuters
Police have arrested a Colombian woman accused of laundering money for the Sinaloa Cartel, shedding light on how the powerful Mexican gang tries to disguise the origins of their illicit funds with help from Colombian operatives.
On Wednesday, Colombian police announced the arrest of Dolly Cifuentes Villa, alias "La Meno," who they claimed is a close associate of Mexico's most wanted drug trafficker, Joaquin Guzman, alias "El Chapo." As El Pais reports, Ms. Cifuentes managed 32 business in Colombia and 17 outside the country, which she used to launder money for Mr. Guzman's Sinaloa Cartel.
According to police, Cifuentes and her relatives inherited the money laundering business from her brother Francisco, who was killed in 2007. Francisco was at one point the personal pilot of legendary drug kingpin Pablo Escobar, but spent much of the past decade building up his own criminal enterprise. When he died, Dolly – along with brothers Jorge Milton and Hildebrando Alexander – took over his business, ramping up their money laundering activities. AFP claims that the family has also smuggled around 30 tons of cocaine into the US for the Sinaloans over the past three years, citing data from the US Drug Enforcement Agency.
---