What a comparison of Chavez's and Calderon's wars on crime can teach
(Read article summary)
The leaders of Venezuela and Mexico have been fighting crime in similar ways. But differences in political agendas, cooperation with the US, and high-level corruption raise interesting questions.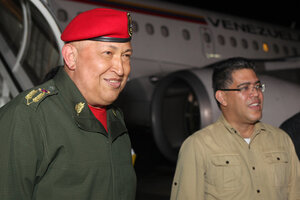 Marcelo Garcia, Miraflores Presidential Office/AP
Statistics leaked from the Venezuelan government's CICPC, a national police organization, show there were 8,839 murders in the first six months of 2011. That number does not include people killed by police while "resisting arrest." In Caracas, there were over 3,100 murders in the first six months of this year. The independent NGO Venezuelan Observatory on Violence (OVV) estimates that 18,000 people will be killed in Venezuela in 2011, a rate of 57 per 100,000.
I covered similar statistics in a post earlier this year in which I discussed the violence in countries that are more dangerous than Mexico. Violent crime is high in a number of other countries, including Honduras and El Salvador. However, international media coverage of violence in Mexico and Central America treats the violence as part of a "drug war" or conflict against organized crime. The violence in Venezuela receives less international coverage and it is not usually framed in the same terms. Perhaps it should. "Chavez's war" is as fair a characterization as "Calderon's war."
---