Forget cliff diving, Acapulco now known as hot spot in Mexico's drug war
(Read article summary)
The days of jet set vacationing in Acapulco are long gone, but the Mexican resort city is once again in the news, this time for drug violence. It is one of the few tourist spots in Mexico suffering from public shootouts.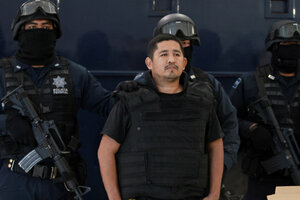 Christian Palma/AP
While many of Mexico's tourist areas have remained separate from the bouts of drug violence buffeting the country, the popular resort city of Acapulco has emerged as one of the new hot spots of organized crime.
A bloody week in which more than two dozen people were killed, and five decapitated bodies were found around the city, is the latest marker of Acapulco's decline.
As Excelsior reports, many of those murdered in the resort were taxi drivers, who often work as lookouts for one drug gang or another. On the year, 42 cab drivers have been murdered in the city, according to figures from the newspaper Reforma.
The recent wave of violence has led to a broader spike in crimes against the population in this port city, including people unconnected to organized crime.
Twenty-three local gasoline stations shut their doors for three hours on Friday to protest against increased extortion demands, while authorities reported a 20-fold rise in car robberies along the famed Autopista del Sol, or Highway of the Sun, which connects Acapulco to Mexico City. After a series of robberies on shops last week, a handful of jewelers in the city's downtown announced a weekend shutdown to take a stand against the violence.
As of early August, 650 people had been killed in Acapulco in 2011, making it perhaps the bloodiest big city in Mexico after Juarez.
Acapulco's body count has been strikingly high for a number of years.
---