Brazilians march against corruption to mark independence day
(Read article summary)
Despite a rash of recent corruption scandals in Brazil, bright spots are appearing, including today's 'March Against Corruption' in support of President Rousseff's efforts to clean up the capital.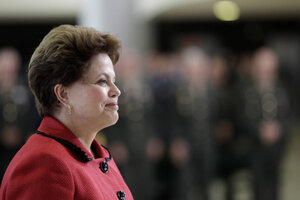 Ueslei Marcelino/Reuters
The performance of Brazil's Congress, and particularly the governing coalition, makes one wonder whether the nation's deliberative process should be moved somewhere else – far away from the alleged 'representatives of the people.'
Congress is where the government's coalition 'allies' select their robber baron cabinet ministers, the same ones that have been resigning one after the next in the wake of President Dilma Rousseff's spring cleaning. Yet despite the rash of corruption scandals over the past months, and one particularly egregious 'secret vote' that recently absolved a deputy of grand corruption charges, a few bright spots have begun to appear. These include a parliamentary movement against corruption and a September 7 "March Against Corruption" in support of President Rousseff's efforts to purge Brasilia.
The Super-Party Front Against Corruption
A group of parliamentarians led by Senator Pedro Simon (of the PMDB) have announced the creation of a "Super-Party Front Against Corruption." The movement supports the faxina or cleaning that began shortly after President Rousseff took power. According to the Jornal Globo, Mr. Simon asks that the president "dialogue with us, chat, sit together to find a solution." Simon's plea does not sound like unconditional support for the fight against corruption, but rather a return to the amiguismo and 'consensus impunity' status quo. But at least the establishment of a 'front' against corruption is a promising sign that incentives are moving in the right direction.
Can Electoral Rewards for Ethical Behavior Change Congress?
---