Why were Brazil's booming banks not able to avert a workers strike?
(Read article summary)
Despite the fact that Brazil's banks boomed while the world's banks reeled amid global economic turmoil, strikers just caused havoc in the industry for three weeks. Blogger Greg Michener offers three hypotheses for 'what gives.'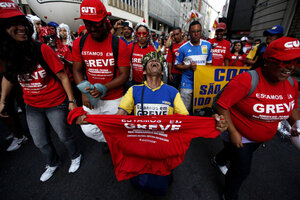 Nacho Doce/Reuters
Few other countries can boast banks whose profits were more fabulous than Brazil's in 2010. As much of the world's banks cowered under the threat that consumer and national debts might lead to insolvency, Brazil's banks boomed. According to the Economist, the sector enjoyed returns on equity of more than 25 percent, and the nation's biggest private bank, Itaú, reported earnings of $8 billion, 32 percent higher than in 2009.
With all this financial success, why were Brazil's banks not able to avert a 21-day banking workers strike that just ended today? Could they not have shared a modicum of their success to keep unionized workers in check? Was it stinginess motivated by concerns over stock valuations? A collective action dilemma among the National Federal of Banks? Were union demands simply unreasonable? It is difficult to tell given the shoddy quality of reporting. A more enticing possibility is that banks were happy to put customers in a position where they were forced to develop online, telephone, and banking machine experiences that might ultimately benefit the banks' bottom line.
Some context
Brazilian banks have earned stellar returns over the last decade. As a result, they have become internationally renown for their strength: Itaú now places among the top ten largest banks in the world, and two Brazilian banks placed among the top 12 strongest banks in a famous Bloomberg Markets ranking published earlier this year. Given unprecedented banking prosperity, it would seem odd that Brazil has experienced coordinated strikes by the national bank employee syndicate during the last eight years. This year's strike involved 36,000 workers; over 9000 branches took part – almost half of the nation's branches. In 2009 the strike lasted 15 days. This time it lasted 21.
---