Stranger than fiction: 'Elite Squad 2' opens as politician who inspired movie flees Rio
(Read article summary)
But is the congressman's abrupt departure from Rio de Janeiro actually a political ploy for the city's upcoming mayoral election? Just another stranger than fiction event in Rio's struggle with crime.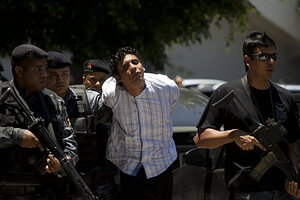 Felipe Dana/AP
Elite Squad 2 will be released in the US on November 11, and those unfamiliar with the plot may think it's just a creative screenplay. But in reality, much of the story is based on fact, because in Rio, truth is often stranger than fiction.
There's been quite a few big news stories on Rio security in the past two weeks, but not everything is exactly as it seems.
Local politician "in exile:" Marcelo Freixo flees Rio
Last week, popular Rio Congressman Marcelo Freixo announced that he was fleeing Brazil after death threats from Rio militias escalated. He found little support for increased security from the Rio authorities, who he claims have failed to investigate the threats against him. Some were even calling his abrupt departure as "exile." Mr. Freixo inspired the character Diogo Fraga in Elite Squad 2, since in real life, he has been going after Rio's militias and politicians with militia ties since 2006. He's made many enemies, including a former policeman/militia member who escaped from prison and was allegedly offered 400,000 reais ($227,000) to murder Freixo.
---