Colombia's FARC rebels choose hardliner 'Timochenko' to lead
(Read article summary)
FARC's move to put Timoleon Jimenez, also known as 'Timochenko,' in charge could prove a major obstacle to Colombia's hopes for a peaceful resolution to the conflict.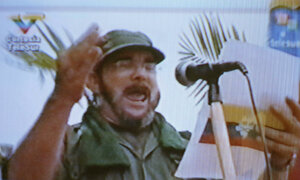 AP/File
Colombia's hopes for a peaceful solution to the 47-year civil conflict may have suffered a setback after the FARC opted for a military, rather than a political leader, as their new commander-in-chief.
The seven-man ruling body of the Revolutionary Armed Forces of Colombia (FARC), the Secretariat, has voted Rodrigo Londoño Echeverry, alias "Timoleon Jimenez" or "Timochenko," to be the new rebel supreme commander. Timochenko was the senior of the two candidates for the top position in the guerrilla army. His competitor, and according to many analysts (including InSight Crime), the better qualified, was Luciano Marin Arango, alias "Ivan Marquez."
"We wish to inform you that the comrade Timoleon Jimenez, with the unanimous vote of his companions of the Secretariat, was designated on 5 November, the new commander of the FARC-EP," read the guerrilla communiqué.
Timochenko is one of the least known members of the FARC Secretariat. He has granted almost no interviews to the media and did not take part in any of the peace talks between the FARC and the government in the 1980s or 1990s.
He joined the FARC in 1982, becoming part of the 9th Front in the department of Antioquia. He was promoted very quickly, and just four years later, in 1986, became the fifth member of what was to become the seven-man Secretariat. When the FARC created its system of 'blocs' or fighting divisions, Timochenko was given that of the Magdalena Medio, a complex and strategic area in the northeast of the country.
---