Should the US adopt a 'Colombia standard' of success in Afghanistan?
(Read article summary)
Measuring success in Afghanistan on Afghans' ability to fight their own conflicts may appeal, but a 'Plan Afghanistan' would still be far more costly – and less successful – than Colombia's, argues blogger James Bosworth.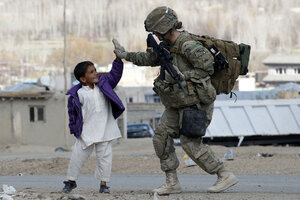 Umit Bektas/Reuters
Michael O'Hanlon and Paul Wolfowitz argue that the US should strive for a "Colombia standard" of success in Afghanistan. They argue that though Colombia continues to have a conflict (in fact, a higher homicide rate than Afghanistan), its relative success in reducing the conflict, providing state presence in the population centers and having a fighting force capable of managing its own conflict should be seen as a model for "success" in Afghanistan.
They write:
While Colombians deserve most of the credit for success, they depended on a long-term U.S. commitment that was limited in scale but not in time.
I agree with that sentence, but not the rest of the paragraph.
I once wrote that Latin American analysts liked to refer to Plan Colombia not because of any specific details as much as it was "very big." That's true in terms of security assistance to the Western Hemisphere, where Plan Colombia was bigger and longer lasting than any other comparable initiative. The Merida Initiative in Mexico and the more recent CARSI and CBSI in Central America and the Caribbean are quite undersized compared to the scale of resources and commitment the US gave Colombia in the late 1990's and throughout the 00's.
---