A sharp contrast between CELAC's style and UNASUR's substance
(Read article summary)
As Venezuelan President Hugo Chávez struggles to make CELAC into an anti-US regional body, alternative group UNASUR is actually being productive, says blogger James Bosworth.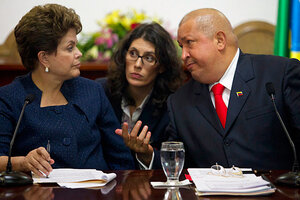 Carlos Garcia Rawlins/Reuters
Blogging by Boz's general rule of international organizations: Any international organization that spends most of its time discussing who is or isn't a member is not being effective.
This is essentially the fight over the Community of Latin American and Caribbean States (CELAC) today in Caracas. Venezuelan President Hugo Chávez wants to focus discussion on the organization as an "anti-imperialist" unit, one without the US and Canada, and one that is an alternative to the OAS. As I wrote earlier this year, the fact the CELAC meeting was postponed due to Mr. Chávez's health crisis already shows a lack of seriousness in this debate. Another group of countries, led by Brazil, have a more substantive agenda for CELAC that includes responses to the global financial crisis and a democracy clause for the new organization. The winner of this style vs. substance debate will determine whether CELAC has a hope of becoming an effective organization in the future. I'm pessimistic.
---