Is it the end of paramilitarism in Colombia?
(Read article summary)
The last of Colombia's paramilitary leaders were captured in Venezuela, marking the end for a group that dominated Colombia's drug trade, writes guest blogger Jeremy McDermott.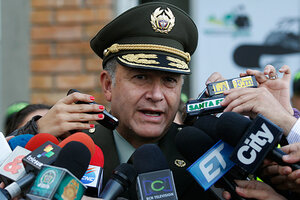 Fernando Vergara/AP
• A version of this post ran on the author's site, www.insightcrime.org. The views expressed are the author's own.
Venezuelan authorities have captured the last of Colombia's paramilitary chieftains, marking the end of the United Self-Defense Forces of Colombia (AUC), which dominated the drug trade for over a decade and penetrated all facets of the state.
Hector German Buitrago, better known by his alias of "Martin Llanos," was arrested along with his brother, Nelson Orlando Buitrago, alias "Caballo," in the Venezuelan state of Anzoategui. Martin Llanos headed the Self Defense Forces of Casanare (ACC), a powerful paramilitary faction with over 1,000 fighters in the Colombian provinces of Casanare, Meta and parts of Boyaca and Vichada. The group was founded in the 1980s by the men's father, Hector Jose Buitrago, as a response to guerrilla extortion and kidnapping in Casanare. Hector Jose was arrested in April 2010 in Colombia, while his sons left the country, living in Ecuador and Bolivia before moving to Venezuela. The ACC founder had previously been arrested in 1996, but was rescued from prison by his sons.
---