Sean Penn jumps into Falkland Islands fray
(Read article summary)
Sean Penn lashes out at the deployment of a British prince to the Falklands. The UK is not amused.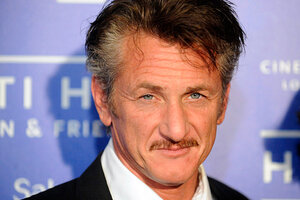 Phil McCarten/Reuters
The war of words between Argentina and Britain over the Falkland Islands, the British archipelago off the Argentinean coast, is heating up with barbs from both sides of the Atlantic.
Now a new voice has joined the fray – one that is neither European nor Latino.
"It's unthinkable that the United Kingdom can make a conscious decision to deploy a prince within the military to the Malvinas, knowing the great emotional sensitivity both of mothers and fathers in the United Kingdom and in Argentina who lost sons and daughters in a war over islands with a population of so few," American actor Sean Penn said this week.
He is referring to the deployment of Prince Williams to the islands, known as the Malvinas by Argentina, which comes just months before the 30th anniversary of the war between the two nations that caused some 900 casualties.
The growing diplomatic battle has nothing to do with a Hollywood celebrity. But in many ways it does: it is a new breed of "diplomacy" that has seen famous actors, rock stars, and other faces once reserved for People magazine jumping into international politics.
---