The perils of 'car culture' in Brazil
(Read article summary)
From high costs, to heavy traffic, to lagging safety regulations, cars have become a 'quality-of-life problem in many cities,' writes guest blogger Greg Michener.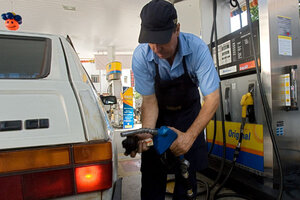 Victor R. Caivano/AP/File
• A version of this post ran on the author's blog, observingbrazil.com. The views expressed are the author's own.
My wife Carolina and I so far managed to avoid buying a car here in Brazil. It's not that we have a strong aversion to owning a car; it would be great to have a little ride for weekend jaunts, but it's just impractical. Happily, the cost-benefit does not (yet) make sense.
I walk back and forth to work in 15-20 minutes, and do my grocery shopping within a six block radius. If we're doing a long-haul trip, we fly. If we're doing a weekend-scenic trip, we rent or go with friends. To get around town or back and forth from the airport and bus terminals, I spend about $150 dollars on taxis per month. If I were paying maintenance, depreciation (on cars that cost from a third to a half more than they do in other countries because of taxes and import tariffs), insurance, gas, and parking costs for a car, I calculate that I would be paying about five times what I now spend on transport. Cars are necessary at times, i.e. when you have small children (safety seats), or need to get out of town to some nearby remote location, but we'd all be better off using them less. Especially in Brazil.
I Am 3 Times More Likely to Die in a Traffic Accident in Brazil than in Canada
---