Mexicans host Pope Benedict XVI, but say he's no Juan Pablo
(Read article summary)
A poll suggests Pope Benedict XVI had big shoes to fill in Mexico, where he celebrates Mass today before heading to Cuba.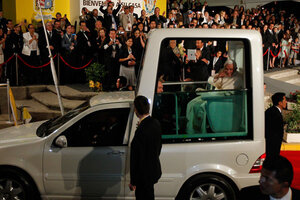 Tomas Bravo/Reuters
There is really no better place to measure the pulse of a country than in a beauty salon. And in Mexico City, in Vanessa Gonzalez's salon, the trip of Pope Benedict XVI to Mexico measures at, she pauses, approximately zero. "I have not heard one client talking about it," she says.
But during the last papal visit to this country ten years ago – by the late Pope John Paul II – the swirling chairs and shampoo stalls were abuzz. "People adore Juan Pablo," she says.
Pope Benedict XVI arrived in Mexico on Friday, and today celebrates an open mass in a park in Silao, Guanajuato, a deeply Catholic state in central Mexico, before heading on to Cuba tomorrow.
His trip has not been without controversy. He comes amid gruesome drug violence that has claimed 50,000 lives, and while most victims are rival traffickers, anyone can end up a target, including a public figure. He is bypassing Mexico City altogether, leaving some residents feeling snubbed and others speculating that he is avoiding the capital's embrace of gay marriage and abortion (the Vatican says the altitude is what's keeping him away). And Guanajuato state happens to be run by the ruling, Catholic-friendly National Action Party (PAN), which some see as a political message. They say it's no coincidence that the pope is visiting the country as it is about to kick off its presidential race.
But away from the political chatter, regular Mexicans are hardly paying attention. Mexico is devoutly Catholic, home to the second-largest Catholic population in the world behind Brazil. But the current pope has done little to move Mexican Catholics the way his predecessor did – John Paul II often brought the faithful to tears.
---