Problem in securing Rio slums? Announcing police arrival ahead of time.
(Read article summary)
Brazil's Pacifying Police Units will enter a Rio favela this month to step up security. But announcing the 'clearing' of a favela gives powerful drug traffickers time to flee before security forces arrive.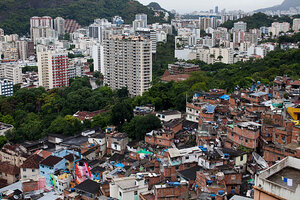 Rodrigo Abd/AP/File
• A version of this post ran on the author's site, Insightcrime.com. The views expressed are the author's own.
More than a year after the military launched a raid to drive drug traffickers out of Complexo do Alemao, a complex of favelas, or slums, in Rio de Janeiro, the neighborhood is set to receive two elite police units.
Military forces invaded Complexo do Alemao in November 2010, in an operation intended to remove the area from criminal rule.
Now, the military says they are again stepping up security measures inside Alemao in anticipation of the arrival of two police pacification units (UPPs) to the neighborhood. The elite military police squad, known as the BOPE, is supposed to lead another security sweep in Alemao starting March 27, in order to clear the area for the UPPs' arrival.
The UPPs are elite police units, set up to bring community policing to Rio de Janeiro neighborhoods that had previously been lawless [See Monitor coverage on UPPs here].
There are currently 19 UPP units in place in the city.
InSight Crime Analysis
---