Brazil's President Rousseff praises new study abroad program
(Read article summary)
Brazilian President Dilma Rousseff spoke at Harvard University on the connection between country's rapid economic growth and education.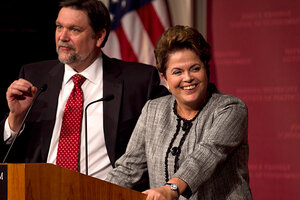 Steven Senne/AP
Brazilian President Dilma Rousseff and President Obama highlighted a student exchange program called Science Without Borders this week. Even though it doesn't resolve their differences over the United Nations' Security Council, currency wars, or nuclear issues, it's an area of cooperation that underscores how both countries acknowledge the need for stronger ties.
The international exchange program which aims to send 100,000 Brazilian students to undergraduate institutions for one year of fully-funded study, was rushed through the Brazilian legislature after Mr. Obama's visit to Brasilia in March 2011. It garnered high levels of private sector investment within months, and has since placed students in nearly 100 US universities.
While attention is often focused on policy disputes between Brazil and Washington, programs like Science Without Borders show how educational and cultural ties between Americans and Brazil's rising middle class are deepening. Brazil has made major strides in the past decade, moving some 40 million men and women out of poverty and into the middle class. And the Science Without Borders program is one of many initiatives to help the country achieve the 21st century standards of development needed to create a vibrant job market, innovative and growing economy, and bring basic services like electric power to all regions of the country.
---