The Beatles' No. 1 fan? Mexico
(Read article summary)
When Paul McCartney sings in Mexico City tonight, he'll be fulfilling countless people's dreams to hear Beatles' songs live. The Beatles were blocked from playing in Mexico in 1965.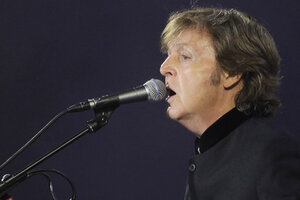 Jorge Adorno/REUTERS
The Beatles never played a single concert in Mexico. Yet Mexicans count themselves among the world's most dedicated fans of the boys from Liverpool.
When Paul McCartney plays a free concert in Mexico City's sprawling Zocalo plaza Thursday night, he'll be fulfilling the dream of countless Mexicans to hear some of their favorite songs live – and not just the generation that witnessed the British invasion firsthand but their children and their grandchildren.
It's hard for a single day to go by in Mexico City without hearing a Beatles song or something of the solo work of John, Paul, George, and Ringo. Stuck at a stoplight, the driver next door might have "Revolution" turned up full volume. At a restaurant, a musician might saunter up and play a strangely accented version of "Yesterday" or "Imagine." "Something" might serve as background music at a grocery store.
"The music of the Beatles is very fresh," said Abel Álvarez, manager of La Rock'Ola Inglesa, which organizes events for four of the most popular Beatles cover bands in Mexico City. "You can listen to it 10 years from now and it will still be fresh. There are many musical genres, but the Beatles will never disappear."
In 1965, the Beatles announced a possible tour in Mexico, but Mexico's then- iron-fisted authoritarian government blocked the plan, saying that Mexico's youth weren't ready for an event of that magnitude. And so fans were left eternally waiting.
Perhaps that's why Mexico holds the record for radio time dedicated to Beatles music at 12 hours weekly. Fans can listen to Universal radio's "Club de Los Beatles" every morning during rush hour; the station also sponsors an actual fan club which claims 1 million card-carrying members. The program's host plays everything from the group's happy early hits to its more dissonant, obscure later work.
---