Is Bogota's gun ban responsible for a drop in homicides?
(Read article summary)
If a new gun ban in Colombia's capital is linked to a drop in the murder rate, it could potentially serve as a model for the rest of Latin America, writes guest blogger Geoffrey Ramsey.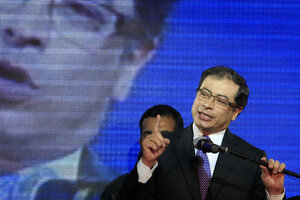 Fernando Vergara/AP/File
• A version of this post ran on the author's blog, insightcrime.org. The views expressed are the author's own.
The city of Bogota has seen a significant reduction in homicides after passing a ban on carrying guns. If the two developments prove to be related, the ban could provide a model to other violence-plagued cities in the region.
On February 1, newly-elected Bogota mayor Gustavo Petro introduced a three-month ban on carrying guns in public, saying that to carry a weapon represented "not a defense mechanism, but a risk." On April 30, Petro declared that the ban had been a success, and had contributed to a 31 percent drop in homicides when compared to the first four months of 2011. April in particular saw a particularly large drop in homicides, and with only 96 murders reported, was the most peaceful April on record in 15 years. Because of this, Petro and local army officials (the military is responsible for gun regulation in the country) announced that the ban would be extended for three more months.
If the ban continues to see success, it may prove permanent. Petro has expressed interest in this, and says that he wants to change the attitude of Colombians towards weapons, in order to "generate a culture of tolerance and love."
At first glance, the gun ban and corresponding drop in homicides seems to provide a compelling model for cities elsewhere in the region. As a report recently published by the Inter-American Dialogue noted, most of Latin America's homicides are concentrated in urban areas. Indeed, access to weapons has been cited by some commentators – including InSight Crime – as one of the main drivers of violence in Caracas, especially among poor youths in the city's slums. If restricting the bearing of firearms had so much success in Bogota, why not export it to other violent hotspots in the hemisphere, like Caracas, Rio de Janeiro, or San Pedro Sula?
---