Recent Mexico arrests falsely linked to 'El Chapo:' Is US trying to influence elections?
(Read article summary)
An arrested drug suspect accused the US of pressuring him to claim family ties to wanted drug kingpin 'El Chapo.' Is this US meddling in Mexico, or is this an attempt to exploit mistrust of the US?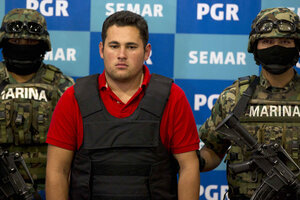 Eduardo Verdugo/AP
• InSight Crime researches, analyzes, and investigates organized crime in the Americas. Find all of Geoffrey Ramsey's research here.
US anti-drug officials in Mexico have been accused of pressuring captured drug suspects to claim to be relatives of the most wanted Mexican drug kingpin in order to influence upcoming presidential elections in the country.
When brothers Felix and Kevin Beltran Leon were arrested on June 22, many news sources incorrectly identified Felix as the son of Joaquin Guzman, alias "El Chapo." When his true identity was revealed a day later, it was dismissed as an embarrassing mishap for Mexican authorities.
Now however, it has emerged that there may be more to this initial mix-up. La Jornada reports that the defense lawyer of the brothers, Juan Heriberto Rangel Mendez, is claiming that his clients were offered incentives to pretend that they were related to El Chapo. Mr. Rangel says that the brothers spoke with Drug Enforcement Administration (DEA) personnel who said the ruse only had to last until the upcoming July 1 elections, after which they would be freed.
Felix refused to cooperate, according to Rangel, despite the assurance of officers that he would be freed if he did so.
---