Mexico: victory of president-elect Peña Nieto challenged in court
(Read article summary)
Leftist candidate Andres Manuel Lopez Obrador, who lost Mexico's July 1 presidential election, officially challenged the results last night. He accuses the victorious party of buying votes.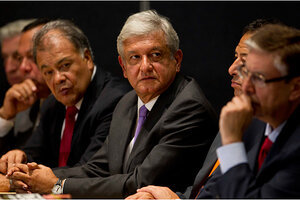 Eduardo Verdugo/AP
The leftist candidate in Mexico's presidential election has formally filed a challenge to the July 1 presidential race – and most Mexicans won't be happy about it, at least according to a new poll out in the daily Reforma.
Yet the same poll shows that a significant portion of Mexicans surveyed believe the race was dirty, either somewhat or very much so.
The challenge filed just before a midnight deadline Thursday by leftist Andres Manuel Lopez Obrador, who also contested the 2006 presidential race after he lost that election, could hurt the image of his Democratic Revolution Party (PRD), especially among those who say the candidate cannot accept democratic defeat. Yet amid deep skepticism over the functionality of democracy, his pushback against the the win of Enrique Peña Nieto, who hails from the Institutional Revolutionary Party (PRI), is creating a "watchdog" culture that could ultimately help Mexicans regain more faith in their democracy as the PRI, which once ruled Mexico for 71 years straight with a tainted democratic record, comes back into power.
The court has until Sept. 6 to resolve the complaint, and the results are unlikely to be overturned, as some of Mr. Lopez Obrador's central accusations – such as the PRI was buying votes on election day – are so hard to prove.
---