Guatemala volcano eruption cools as Independence Day celebrations heat up
(Read article summary)
Thousands were evacuated in Guatemala yesterday when the Volcano of Fire had its strongest eruption in more than 30 years.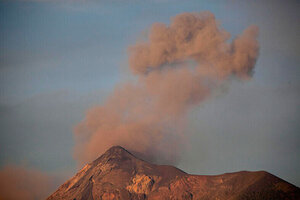 Moises Castillo/AP
Guatemalans received a scare on the eve of their Independence Day celebrations. The Volcano of Fire, Fuego, had its strongest eruption since 1974 on Thursday leading to the evacuation of around 6,500 people, according to CONRED, the Guatemalan disaster agency. Close to 900 people are in shelters after the eruption created massive plumes of smoke and ash that could be seen from Guatemala City and neighboring UNESCO heritage city La Antigua, both less than 46 miles away.
"On a scale of 1 to 5, with five being the worst, I would say this was a 3.5," says David De León Villeda, spokesperson for CONRED.
On the morning of the explosion motorcycle shop owner Ignacio Nuñez had a clear view of Fuego from his shop in downtown La Antigua. "It's been bad, but I've never seen it this bad. If it blows its cone, we're done," Mr. Nuñez said.
"But I don't think that will happen, the worse is that all access to the nearby villages will be sealed off, that's happened before and that's total chaos."
Since Tuesday Fuego was registering an increase in seismic activity with more lava flow, ash, rumblings, and a quickly worsening situation, Mr. Villeda says. It was the strong explosion and the falling of ash in nearby communities that prompted the national call for evacuations in seven communities totaling 30,000 residents in the western part of the country.
---