Wikileaks' Assange marks Day 100 inside Ecuadorean embassy
(Read article summary)
Ecuador says it will host Assange in its London embassy indefinitely, but the decision to continue supporting the Wikileaks founder could have negative repercussions for the Andean nation.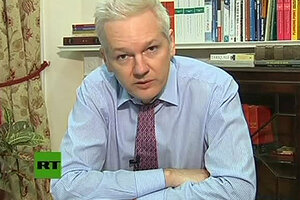 Russia Today via AP video/AP
Ecuador said Wednesday that Julian Assange could be holed up in the Latin American nation's embassy in London for 10 years or longer if a diplomatic solution is not reached.
Today marks 100 days since the Wikileaks founder requested asylum in the Ecuadorean Embassy in London to avoid extradition to Sweden, where he is wanted for questioning on sexual assault and rape allegations.
The Ecuadorean government is not backing down on what they see as a fight for human rights, free speech, and state sovereignty against imperialist powers.
The Britain has threatened to arrest Mr. Assange should he leave the embassy, citing its obligation to fulfill the Swedish extradition request, while Ecuador has remained strong in its support of Assange, creating a diplomatic gridlock between the three nations.
Many question why the Latin American nation continues to advocate for the controversial whistle-blower, as the affair has brought much negative attention to Ecuador's own human rights and freedom of speech record, as well as having strained the country's relations with not only Britain and Sweden, but the United States, its largest trading partner.
---