Could Central American gangs usurp the role of Mexican cartels?
(Read article summary)
Mexican groups currently use Central American gangs to launder money, infiltrate local police, and traffic drugs. With the crackdown on Mexican cartels, the role of Central American gangs could increase.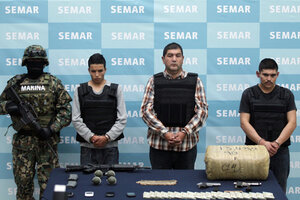 Edgard Garrido/Reuters
• InSight Crime researches, analyzes, and investigates organized crime in the Americas. Find all of Edward Fox's research here.
Costa Rica's attorney general has warned that with the decline of Mexico's powerful cartels, Central American gangs could rise and take control of criminal operations in the region – an extreme but not implausible scenario.
In a recent interview with El Universal, Costa Rican Attorney General Jorge Chavarria warned that Central America's criminal groups could grow stronger and supplant their Mexican counterparts in the region if the Mexican cartels lose power.
"At the moment, the dominant groups are clearly Mexican. But if we look 10 years ahead, what will happen if in Mexico, the fight [against crime] has a positive effect from the point of view of the Mexican state?" Chavarria said. "That is how we have to look at it in order to see how we can avoid the consolidation of Central American organizations that could replace the Mexicans."
RELATED: Think you know Mexico? Take our quiz!
The main candidates to step into the role of Mexican cartels are gangs in the "Northern Triangle" of Guatemala, El Salvador, and Honduras. El Universal highlighted the Salvadoran Texis Cartel and Guatemalan groups the Mendozas and the Charros as among the most powerful.
---