As Peña Nieto prepares to take office in Mexico, a look back at Calderón's presidency
(Read article summary)
Calderón may have had good intentions when going on the offensive against drug gangs, however, the results from 2006 to 2012 didn't match up, writes guest blogger James Bosworth.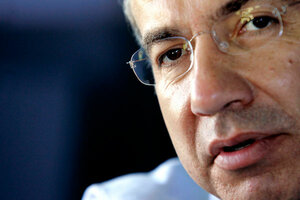 Gregory Bull/AP/File
• A version of this post ran on the author's blog, bloggingsbyboz.com. The views expressed are the author's own.
If you had been told on President Felipe Calderón's first day in office that murders would double and the PRI would return to power, you would have defined his administration as a failure. While his supporters would like to tell a more complex and detailed narrative, his legacy will be based on those two negative results. (Read The Christian Science Monitor's full story on Calderón's legacy here.)

In the early weeks of his administration, Calderón made an operational decision to deploy military units to fight the drug cartels. I say operational, because the decision certainly wasn't strategic. There was no strategy for victory, no vision of what "winning" would look like or what resources and reforms would be needed to achieve victory. In fact, Calderón did not even release a security strategy until mid-2010, over three years after he deployed his first military units.

Calderón may have had good intentions when going on the offensive against the criminal groups. The president was certainly correct that the criminal influence in society was unsustainable and needed to be combated. The Mexican security situation in 2006 was far from ideal. There may have been good reasons to use the military. However, the results from 2006-2012 didn't match the good intentions. The results were tens of thousands additional dead, disappeared and displaced.
---