On cusp of new year, Chavez's health keeps Venezuleans fixated on future
(Read article summary)
Over the weekend, the Venezuelan government informed the nation that ailing President Hugo Chavez has suffered 'new complications' from surgery earlier this month.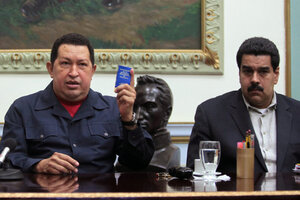 Marcelo Garcia/Miraflores Press Office/AP/File
Dec. 31 is typically a time to recap the biggest events of the year. But in Venezuela this year, news that President Hugo Chavez has suffered "new complications" after surgery on Dec. 11 has kept Venezuelans anxiously fixated on what's to come in 2013.
In downtown Caracas, an annual free concert in Plaza Bolivar to welcome the New Year has been canceled, government officials said. They instead called on Venezuelans to unite in prayer for the prompt recuperation of President Chavez, according to the Venezuelan daily El Universal.
President Chavez underwent surgery in Cuba on Dec. 11 for a recurrence of cancer. Since then, the nation has been faced with uncertainty about his chances for recovery, whether he'll be able to attend his Jan. 10 inauguration – after winning a fourth presidential election in October – and if not, who will be Venezuela's new president.
That uncertainty increased a notch after Venezuelan Vice President Nicolas Maduro went on television to say the following (translated into English by VenezuelanAnalysis): "Nineteen days after having undergone his surgical intervention, President Chavez's state of health continues to be delicate; he has presented complications that are being attended to with treatment that is not without risk."
---