Mixed feelings south of the border on Senate immigration plan
(Read article summary)
An activist for Mexican migrants wonders if the proposal would encourage more to illegally go to the US, setting back a revival in rural Mexico.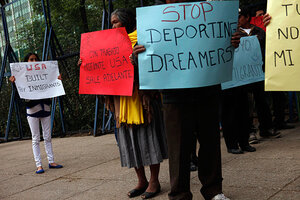 Edgard Garrido/Reuters
If anyone is an activist for the rights of Mexican migrants, it is Adriana Cortes, the head of the Community Foundation of the Bajio, a nongovernmental organization in the Mexican state of Guanajuato that focuses on local rural development.
So she hailed the new immigration proposal in the US Senate that would give special treatment to agricultural workers illegally in the US as the "just" product "of years of fighting," Ms. Cortes says. But that doesn't mean she thinks it will necessarily be good for Mexico.
While the proposal is generally viewed as a score for Mexicans, who labor in American fields and food houses – and a blow to those seeking harsher penalties for illegal immigrants in the US – it is not entirely embraced from south of the border.
"From this side, I worry that yet again it will encourage Mexicans to try to make it to the US illegally, that they'll think it will be easy to make a life there," says Cortes. "But the conditions on the border aren't going to change." Cortes says she's seen great progress in rural Mexican communities in recent years as migrant workers illegally in the US returned home, injecting their communities with new skills and expertise.
The Senate proposal for comprehensive immigration reform, which includes clauses to secure the border and grant paths to citizenship for millions of undocumented migrants already in the US, is expected to face stiff resistance in the States. Many of its points have been hotly debated and struck down for years as immigration reform has stalled. But it has brought hope to many in both the US and Mexico for its nod to the reliance of the American agricultural industry on undocumented immigrants.
---