Chile's Pablo Neruda: from Nobel laureate to center of suspected murder plot
(Read article summary)
Forensic experts in Chile are exhuming the remains of poet and communist Pablo Neruda, who died in 1973. His cause of death was recorded as cancer, but some say he was poisoned.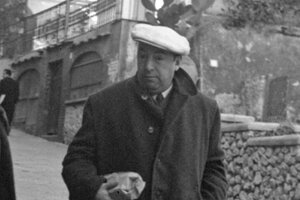 AP/File
When Pablo Neruda died in 1973, the bookish boy from a sleepy town in southern Chile had already played many roles. He was a Nobel laureate in literature. A diplomat to Spain, France, and Burma (today Myanmar). A senator who fled his homeland on horseback when his Communist Party was banned, and later a presidential candidate. A husband to two women, a father to a daughter.
And now, four decades after his death, Mr. Neruda is at the center of a murder mystery. Was he killed in the early days of Chile's military dictatorship?
Neruda's widow, Matilde Urrutia, never accepted the consensus story that he died of heart failure as a result of advanced cancer. But she never came forward with the bombshell dropped a couple years ago by his assistant and driver, Manuel Araya: that Neruda had been in decent shape and was planning to fly into exile – until he was injected with an unknown substance on the day he died.
The BBC interviewed Mr. Araya, who said he remembers that day:
Despite the passage of time, Mr. Araya says he remembers clearly what happened in the days after the military coup.
---