Post-election disputes and Venezuelan law
(Read article summary)
Venezuela has a detailed electoral law and accompanying regulations that describe procedures for contesting election results, which both Maduro and Capriles can look to for guidance, writes WOLA.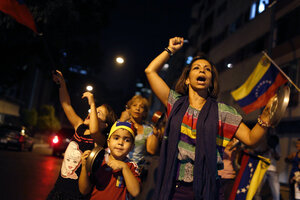 Tomas Bravo/Reuters
• David Smilde is the moderator of WOLA's blog: Venezuelan Politics and Human Rights. The views expressed are the author's own.
On April 14, Venezuela's voters shocked the world by electing Nicolás Maduro to the presidency with a narrow margin-just weeks after he enjoyed a fifteen point lead in the polls. This is not the first time that Venezuelans have upended expectations. On August 15, 2004, they reaffirmed support for then-president Hugo Chávez in a recall referendum that most people were confident Chávez would lose. On December 2, 2007, they turned back Chávez's attempt to change the constitution, less than a year after they reelected him with an overwhelming majority.
Universal and anonymous suffrage gives citizens a unique ability to change the course of history, a course normally determined by people in power. Venezuelans have done it time and again, a fact that Venezuela's leaders would do well to remember as they navigate the current political crisis.
Henrique Capriles deserves applause for having called off the opposition march to the offices of the CNE (National Electoral Council) that was to have taken place [yesterday] in Caracas. In the face of Mr. Maduro's refusal to permit the march and the likelihood of violence occurring between opposition and government supporters, Mr. Capriles made the right decision. He also deserves applause for beginning to discuss in more details the evidence for the electoral irregularities being alleged by the opposition.
---