Study abroad in Mexico? Fewer US students make the trek.
(Read article summary)
One announcement from Obama's Mexico trip was a bilateral forum on higher education. Educational exchanges between the US and Mexico have stagnated or fallen over the past decade.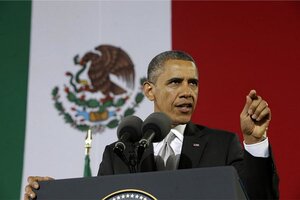 Pablo Martinez Monsivais / AP
• A version of this post ran on the author's blog, bloggingsbyboz.com. The views expressed are the author's own.
One of the announcements that the US and Mexican governments want to highlight from President Obama's trip is the creation of the United States-Mexico Bilateral Forum on Higher Education, Innovation, and Research. The vaguely worded announcement promises to "encourage broader access to quality post-secondary education for traditionally underserved demographic groups, especially in the science, technology, engineering, and mathematics (STEM) fields. They will also expand educational exchanges, increase joint research on education and learning, and share best practices in higher education and innovation."

This is important as education exchanges between the US and Mexico have stagnated or fallen for the past decade. What the presidents didn't say [last week] is that this is something that needs to be fixed because it is a real problem. The numbers and quality of student exchanges between the two countries are quite poor and have been for some time.
---