Opposition win may bring Taiwan closer to China
The resurgence of pro-China opposition party, Kuomintang, which took a majority in Saturday's legislative elections, boosts its chances for the presidential vote in March.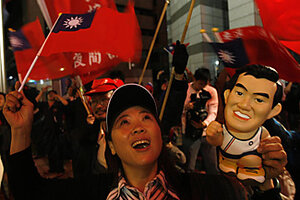 Nicky Loh/Reuters
The resurgence of Taiwan's opposition party, the Kuomintang (KMT), which picked up a majority in Saturday's parliamentary vote, could usher in a significant thaw in cross-Taiwan Strait relations with China, especially if it goes on to win the presidency in March.
A more powerful KMT is widely expected to forge closer economic ties and restart political talks with Beijing, unlike the ruling pro-independence Democratic Progressive Party (DPP). "The future of cross-strait policy will be more conservative and moderate with this legislature," said Taipei-based political analyst Hsu Yung-ming.
On Saturday, the DPP was sharply cut down to size, picking up only 27 seats in a 113-seat legislature, compared with KMT's 81.
The KMT's win, which may boost its chances in the key presidential vote two months away, means that it now has a strong enough majority to recall the president and block any moves to formalize Taiwan's de facto independence through constitutional change.
If it wins the presidency on March 22 – by no means a sure thing – the KMT would end eight years of DPP rule.
China considers self-governing Taiwan part of its territory awaiting reunification, but the potential thaw shouldn't be overstated. The KMT will be constrained from getting too cozy with Beijing by the fact that most Taiwanese want to keep the political status quo, under which Taiwan is an independent, democratic country. Unification would simply be a nonstarter.
---