Japanese youth help compatriots embrace diversity
In a country that has long prided itself on homogeneity, it's becoming cool for youth to embrace the growing number of foreigners in their midst.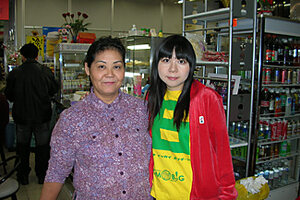 Takehiko Kambayashi
Miharu Tanaka hands out fliers in Tokyo advertising Brazilian eateries in Oizumi, a city two hours away by train. The young woman makes the commute to encourage people to visit the country's most diverse city, with its 16 percent non-Japanese population.
Her efforts are part of a generational shift toward becoming more receptive to a multicultural Japan. But in a country that has long prided itself on homogeneity and is seeing a rise in Japanese-centric nationalism, it will take some persuading for most people to embrace the growing reality of a more diverse population.
Japan has long been wary of – even hostile to – foreigners in its midst. Some say the media perpetuate a stereotyped image of foreigners as criminals.
Japan's bias against foreigners shows in its immigration laws. It is virtually impossible for immigrants to find work here and become citizens. Most foreigners are reduced to low-level "3K" jobs – kitanai, kiken, and kitsui, or "dirty, dangerous and hard" – that most Japanese were no longer willing to take. The country wants to maintain its "racial homogeneity," critics say. Officials recently began considering ways to tie long-term residency permits and work visas to Japanese language ability.
Certainly, the self-image of a homogeneous society remains strong. But some say that perception is incorrect. The official count of registered foreign residents is 2 percent of the nation's total population of 128 million; but that represents an increase of 47 percent in the past 10 years and excludes many non-Japanese residents. While Japan has witnessed more international marriages – 21,000 children are born to these couples every year – its census figures do not show ethnicity.
Moreover, the number of registered foreigners does not include naturalized citizens, indigenous people, or those who overstay their visas, argues Debito Arudou, a US-born social activist who became a naturalized Japanese citizen in 2000.
---