Indonesia's Suharto: a complex legacy
The former dictator, who died Sunday, ruled with a strong hand for 32 years.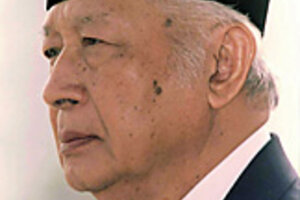 Aladin Abdel Naby/Reuters/FILE
Indonesia will never see former President Suharto, who died Sunday, face a courtroom and receive the crisp judgment of the law. Instead, Indonesians must decide how history will judge the complex legacy of the man who ruled them for 32 years.
Suharto held sway over this multiethnic archipelago through guile, cunning, patronage, and cruelty from 1966 to 1998, leaving mixed emotions among Indonesia's 230 million people and a legacy of virulent anticommunism that had a major impact on the region and fostered close ties with the US.
"He was 50 percent good and 50 percent bad," says Thee Kian Wie, a historian.
Some point to Suharto's economic achievements, saying he built roads, schools, and health clinics in thousands of poor villages, and lifted millions out of poverty. "Life was better then, peaceful, easier to make a crust," said Sintha Wati, who sells goods alongside a fetid canal in Jakarta.
Others remember a military-backed strongman who enriched his friends and family and left Indonesia in chaos amid the Asian financial crisis in 1998. "Rice was cheap, streets were peaceful, but people were scared," said Bembenk, a young clerk.
Even former victims have talked of forgiving Suharto, whom corruption watchdog Transparency International accuses of siphoning off $15 billion of state funds. "As a man, I forgive him," said A.M. Fatwa, an Islamic leader imprisoned under Suharto's government, to reporters, "but not his system of power."
---