Snow in China strands travelers
Millions of Chinese workers, many headed home for the New Year's holiday, face delays amid some of the country's worst weather in the last 50 years.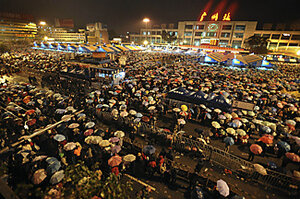 AP
It takes a lot to bring a country in perpetual motion like China to the brink of a grinding halt, but some of the worst weather for half a century is proving more than the authorities here can deal with. And the weather has arrived a week ahead of the biggest holiday of the year, when hundreds of millions of people travel home to be with their families.
Bitter cold and unusually heavy snowfalls in regions of southern China accustomed to a milder climate have paralyzed road and rail links and downed power lines, leaving large swaths of the country without electricity.
More than half the country is short of electricity, the official Xinhua news agency reported Sunday, quoting Vice Premier Zeng Peiyan as saying that the crisis "had seriously affected normal operation of the national economy, people's lives, and production."
Subzero winter temperatures are routine in northern China, where some cities even revel in their frosty reputations. Harbin, for example, not far from the Russian border, draws tens of thousands of tourists every year with its festival of extravagant ice sculptures.
And though Beijing has been freezing cold for the past week or so, the capital generally enjoys dry winters. In the wetter south, however, what would normally be rain has this year fallen as snow, collapsing electricity pylons. Heavy accumulations of ice have weighed down and broken transmission lines.
---