Pro-Muslim tilt in Malaysia's courts
Observers say civil courts often defer to Islamic courts on key issues.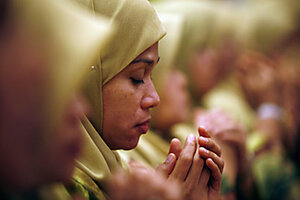 Bazuki Muhammad/Reuters
An Islamic court ruled last week that a Malaysian man receive a Muslim burial, despite insistence by most of his family that he hadn't converted to Islam. His son, a Muslim, maintained that he had.
Such cases have become more common in Malaysia, whose leaders tout their multiracial democracy as a model of Islamic moderation and economic success. It's a claim echoed by American diplomats and Muslim intellectuals seeking a credible counterpoint to extremist voices in the Islamic world.
But the promises of religious and ethnic pluralism that nurtured a generation of Malaysians have begun to unravel. A pro-Muslim shift among lawyers and judges is alarming Christians, Hindus, and other non-Muslims who make up about 40 percent of the population. The remainder are predominantly ethnic Malay-Muslims, who benefit from affirmative-action programs to redress historic economic disparities.
Diplomats, lawyers, and religious leaders say that Malaysia's race-based coalition government – a power-sharing formula unchanged since independence in 1957 – is failing to address growing ethnic tensions fed by pro-Malay discrimination and a growing stress on Islamic governance. Minorities are largely invisible in the ranks of police, military, and civil service, while schools are increasingly segregated by race and language.
Although religious worship is freely practiced in Malaysia, Christians complain they can't get permits to build churches. Last month, a Roman Catholic newspaper was barred by the government from using "Allah" – "god" in the Malay language – to refer to a Christian God. The previous month, tens of thousands of Indian Hindus clashed with ethnic-Malay riot police during a heated rally over alleged social and religious discrimination.
---