In Japan, take the family out to the ballgame
A week of Red Sox mania spotlights the ways Japanese teams are trying to attract more fans.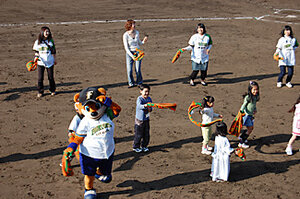 Takehiko Kambayashi
As a teenager, Megumi Shiina hesitated to reveal that she was a fan of baseball, because it was considered to be a "boys' sport."
"I rarely found a girl like me," she recalls. At ballparks, she was surrounded by boys and businessmen in gray suits, a number of them inebriated.
No more. More than a decade later, "you see so many women and girls," she says.
Ms. Shiina was one of the 2,500 enthusiastic fans who packed the Kamagaya Ballpark, 40 miles northeast of Tokyo, the hometown of the farm team of the Hokkaido Nippon Ham Fighters.
Local children get free admission. Fans enjoy dancing in the playing field, getting autographs, singing the national anthem, having photos taken with players, and shaking hands with them. Fans say they feel closer to players as players acknowledge their cheers by waving or bowing.
This week, Japanese are breathlessly tracking the visit of the Boston Red Sox, with their high-profile Japanese pitchers Daisuke Matsuzaka and Hideki Okajima. The team is playing to sold-out crowds, with exhibition games over the weekend and the first two games of the regular season against the Oakland A's on Tuesday and Wednesday. And the ballpark spirit has a feel that would make most Americans feel quite at home.
---
Follow Stories Like This
Get the Monitor stories you care about delivered to your inbox.