Tibetan leaders struggle to speak for split populace
The government in exile is popular but faces pressure from moderates and radicals.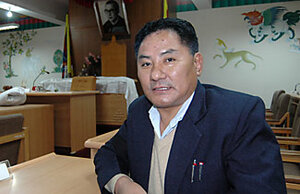 Mark Sappenfield
As a member of the Tibetan parliament in exile, Pema Jungney is increasingly finding himself caught in the middle.
With rioting in Tibet and young radicals at home pushing for a harder line against Chinese rule, he's under pressure to explain his government's support for the Dalai Lama's "Middle Path" of dialogue and reconciliation.
Then again, the last time parliament tried to review the Dalai Lama's Tibet policy, protesters gathered at the steps and declared a hunger strike.
In the past 20 years, the Dalai Lama has transformed the Tibetan government in exile from the semitheocracy he brought from Tibet to a relatively independent democracy. In doing so, he has invested it with more responsibility.
Now, the government must struggle with how to bridge the growing generation gap, finding its own voice while also paying due reverence to the Dalai Lama, whom most Tibetans worship as a god.
It has successes upon which to build. Even critics praise its work on behalf of the Tibetan refugee community – managing 80 schools and 40 refugee settlements across South Asia as well as holding orderly elections on three continents.
But among the 110,000 Tibetan refugees worldwide – many of whom follow Dharamsala as their true government, though it is not recognized by any nation – the government-in-exile will be judged upon how it handles the Tibetan issue, where frustrations are mounting.
"It will be very difficult for the Tibetan government," says Mr. Jungney. "Right now, the direction is toward violence."
Keeping the Tibet issue alive
---