Amid human rights protests, a look at China's record
Freedoms have improved tremendously in the past 25 years, but Chinese people today face plenty of red lines.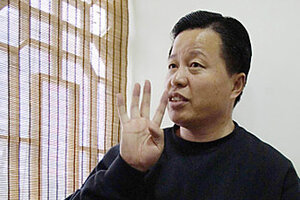 Ng Han Guan/AP/FILE
The international torch relay for the Beijing Olympic Games has been besieged in almost every city it has visited so far by protesters against repression in Tibet and human rights violations in China. But what is the human rights picture really like in China, and how has it changed over the past quarter of a century?
As with so much else in China, the situation is mixed, sometimes confused, and often hard to make out with precision. Some observers like to point to the progress China has made toward international norms; others prefer to stress how far it still is from reaching them.
The imminence of the Games, and the Chinese government's effort to use them as a showcase for its achievements, have polarized the debate. Here, the Monitor tries to cut through the rhetoric with an outline explanation of the key issues.
What kind of freedoms do Chinese people enjoy in their personal lives?
"Nothing we do today was possible 25 years ago. Compared with then, the human rights situation in China has improved like never before."
And that enthusiastic assessment comes from a man who was fired from his job in 2006 as editor of a Communist youth newspaper for publishing an article thatcontradicted the party line, Li Datong.
But the baseline, he points out, was pretty low. "In 1983, I would probably have been arrested."
Twenty-five years ago, Chinese citizens were not free to choose their jobs: The authorities assigned them work for life. Farmers were forbidden to live anywhere but the village where they were born. Nobody was allowed to travel abroad, except on government-authorized business. Nobody could dream of owning a car, let alone a house. Food was rationed. Nobody was allowed to set up a business. Western movies and books were banned.
---