Jewish leader revives Shanghai synagogue
Maurice Ohana worked with Chinese officials to host a wedding inside a historic synagogue.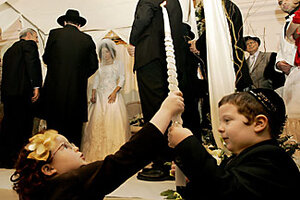 Eugene Hoshiko/AP
A glass was smashed, and a cheer went up.
After months of careful negotiations with the Chinese government, Shanghai's Jewish community celebrated a revival last month as a historic synagogue opened for its first wedding in about 60 years.
For decades, the practice of religion was discouraged, and places of worship were torn down or given secular uses, such as storage spaces for grain. But China's largest city is regaining its cosmopolitan reputation as the country continues its dramatic rise, and the Jewish community of foreigners now numbers more than 2,000.
Maurice Ohana, the president of the current community, still knew, however, it would be hard to get access to the Ohel Rachel synagogue for his daughter's wedding. Judaism isn't one of China's five officially recognized religions (Buddhism, Taoism, Islam, Catholicism, and Protestantism) because of the lack of native Jews, and the community worships quietly, in local apartments.
Ohel Rachel, built in 1920 by an earlier Jewish community of businessmen with roots in Iraq and India, remains in the hands of Shanghai's education ministry.
Almost all of its Jewish decorations have disappeared, except for a plaque outside the door, a star of David carved at the top of a dusty stairway, and a sign inside in Hebrew that says, "Be aware in front of whom you're standing."
---