How hard will neighbors push Burma (Myanmar)?
Burma said Monday it would allow in some Southeast Asian aid workers.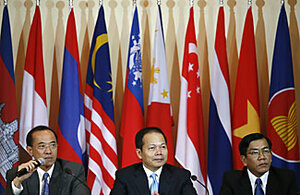 Tim Chong
With Western naval ships loaded with aid waiting at their door, and visiting UN diplomats demanding faster rescue and relief, Burma (Myanmar) agreed to accept more foreign aid from its neighbors at Monday's emergency meeting of the Association of South East Asian Nations (ASEAN).
While aid workers welcome any increase in aid to Burma, many opponents of Burma's military regime say Asian leaders are moving too slowly – and merely appeasing the junta in order to make business deals and strengthen their group's position in free-trade negotiations with China.
ASEAN is stalling the West by claiming "We're working on this, don't worry," and then saying, "Sorry, I haven't got there yet," says Jeff Kingston, head of Asian studies at Temple University in Tokyo. "In practice constructive engagement has been a fig leaf for ASEAN to invest in Myanmar and exploit its natural resources. ASEAN has not used their engagement in any constructive way, unless you are a businessman."
For example, at a side deal at Monday's meeting, Thailand and Burma agreed to build a seaport and pipeline in southeastern Burma away from the disaster zone.
---