Christianity in a Chinese workplace? For some.
A strategic semiconductor firm gets leeway on promoting faith in its halls.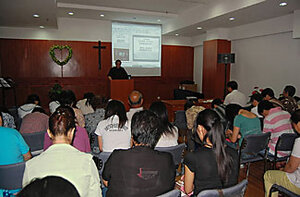 Carol Huang
A spiffy corporate campus in China isn't exactly where you'd expect to find a four-foot-tall wooden cross, let alone a church filled with Chinese singing hymns.
But that's what's happening on the Beijing and other campuses of Semiconductor Manufacturing International Company (SMIC), whose founding CEO is an enthusiastic evangelical Christian.
A leader in what Beijing considers a highly strategic industry, the chipmaking company has secured unusual leeway for free worship from a government that's extremely cautious about organized religion.
But despite their often hard line on religion, in practice, Chinese authorities use a sliding scale of religious control – influenced in part by how much a group contributes to a prosperous and "harmonious" society.
Overseas Chinese investors score very high on helping China reach this goal. "As long as we're considered China's semiconductor company, as long as we're good for China," they work with us," says company spokesman Matthew Szymanski.
Chinese authorities have adapted their stance on religion as its popularity has grown in recent years. The number of Christians alone rose 50 percent between 1997 and 2006, according to official figures. Today they make up 4 to 8 percent of China's 1.3 billion people, says Brian Grim, a senior research fellow at the Pew Forum on Religion and Public Life in Washington.
China's Constitution, adopted in 1982, recognizes "freedom of religious belief" and "protects normal religious activities." But legal worship is restricted to state-sanctioned facilities. The government keeps a close eye on religious activity, periodically cracking down when it sees something it doesn't like.
---