Two national paths to Olympic glory
The US's approach looks ad hoc compared with China's centralized system.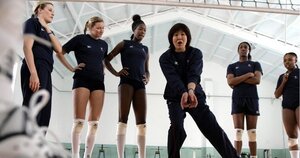 Robert F. Bukaty/AP
Shawn Johnson is a uniquely American Olympian.More than the smile, the endorsements with McDonald's, or even the world championship gold medal in gymnastics, Johnson is undeniably a typical 16-year-old kid. She has dissected a spider in biology class and this spring attended her high school prom.
Come August, she will compete against Chinese athletes culled from villages at age 6 and installed in sports academies designed to be medal factories.
It is a reprise of the Cold War Games, with America's hometown athletes pitted against the might of a massively funded centralized sports machine. But as Olympic spending grows, with more nations seeking the nationalistic boost success brings, both countries are realizing that they must adapt to stay ahead, each synthesizing the strengths of the other.
"We have to be a lot smarter about how we spend our money," says Steven Roush, head of sports performance for the United States Olympic Committee (USOC) in Colorado Springs, Colo.
For the United States and China, favorites to top the gold medal table in Beijing, the challenges are exactly opposite. America seeks some measure of centralization in order to train its top prospects to rising international levels. China seeks to make its athletic assembly line more humane.
---