Essay: Special agents at the Olympics
Diplomatic Security Service helps keep games safe.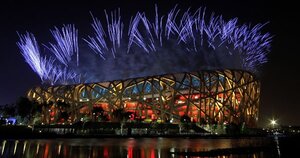 Andy Wong/AP
In just a few days, elite athletes from all over the world will begin competing in the 2008 Summer Olympic Games in Beijing, the capital city of China. Gymnasts will flip and twirl on the balance beam. Divers will plummet from the platform. Runners will bolt out of their starting blocks. Tourists will flock to the Games from all over the world.
Even the president of the United States is planning to attend the Olympics. And federal law enforcement officers from the US State Department will help keep all these people safe. In fact, some of them have been living in Beijing for quite a while, getting ready for the start of the Olympics.
Sean O'Brien and Wendy Bashnan are special agents with the Diplomatic Security Service, the law enforcement branch of the State Department. When they work in the US, they carry guns and badges just like other federal law-enforcement officers. Sometimes you might see them on the news wearing dark glasses, suits, and curly ear pieces as they protect important visitors to the US.
Both Mr. O'Brien and Ms. Bashnan packed up and moved to Beijing way back in 2006, when the US government asked them to. Their job? Working with Chinese law enforcement to ensure that the Olympics are safe for athletes and tourists.
"We're here to make sure that Americans who come to the Olympics are safe," says Mr. O'Brien. "We'll help coordinate security for people like the president of the United States, corporate sponsors, and everyday tourists. We expect to see about 75,000 US citizens in Beijing for the Olympics, and we help keep them safe. Ultimately, the burden of providing security falls on the Chinese government, but we act as a bridge between the two countries."
---
Follow Stories Like This
Get the Monitor stories you care about delivered to your inbox.