For Beijing's businesses, the Games fall short of gold
Tourism has been hurt by visa controls, high prices, and unrest in Tibet.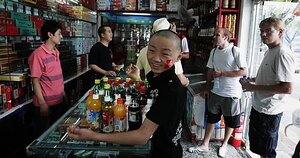 Elizabeth Dalziel/AP
A global event like the Olympics is normally the goose that lays the golden egg for a city's hospitality industry. It should mean hordes of visitors caught up in the exuberance of the Games and their surroundings, eager to spend on hotels, meals, and travel.
But as Beijing 2008 heads into its final lap, the promise of a tourism bonanza remains unfulfilled. Hoteliers are struggling to fill rooms. A media center for journalists not accredited to the Games is mostly empty of foreigners. Families hoping to rent a spare room to foreign guests have waited in vain.
"We were expecting over 2 million people to come to Beijing for the Games. We may find in the end it was less than 600,000," says the sales manager for one luxury hotel here. Official figures will not be released for another month.
Sky-high hotel prices – as much as $1,000 a night for a three-star hotel – may have hurt bookings. But hoteliers, tourist officials, and foreign consultants to the Olympics mainly blame the difficulty many foreigners have faced in obtaining visas, and negative perceptions of the host nation.
Tourism had already suffered this year after unrest in Tibet sparked protests in the West against the international Olympic torch relay. That controversy led some Western leaders to mull a boycott of the opening ceremonies. Most later agreed to attend, but the damage done to China's image has lingered.
"Many, many clients did not want to come because of perceptions of China and the Tibet issue. Another issue was all the visa problems and restrictions before the Games," says the hotel sales manager.
Tighter visa controls did not just dissuade visitors from coming; they also drove out thousands of itinerant foreigners and overseas students living here. Authorities also sent home Chinese students not from Beijing and enforced household registration rules more strictly.
---